Do you feel like you're working TOO hard? Get the best practices to use Intelligent Automation to save time, money, and effort.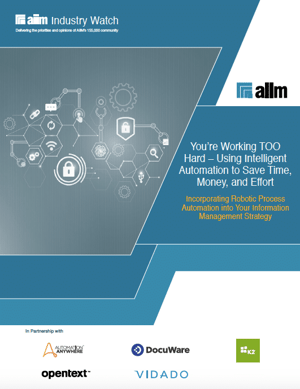 The intersection between Content Services (multi-channel capture, content integration and migration, document management, and records management and preservation) and Process Services (case management, business process management, robotic process automation, and decision management) is a critical one on the journey to Digital Transformation. A failure to map this intersection will result in siloed processes and content repositories that handcuff even the most well-intentioned efforts to transform customer journeys and enhance customer experiences.
Download this FREE report for an in-depth look at the critical industry trends you're facing and an outline of the core Intelligent Automation best practices you need to fuel your Digital Transformation, including:
How to realistically assess the current state of automation in your organization.
How to integrate process automation initiatives with your efforts to tackle the rising tide of information chaos. And vice versa.
How to educate the C-Suite on the strategic benefits of process automation that go beyond cost savings – data quality, information security, and improved customer experiences.
How to leverage your existing ECM and BPM investments with the next generations of process services enhancements.
Simply fill out the form on this page to download this free report and learn more.
This Report is approved for 1.0 hour of CIP Maintenance Credits.