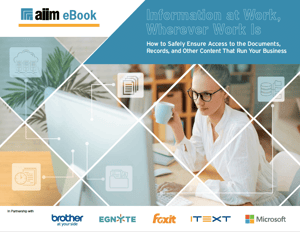 With more employees working from home, organizations now face new challenges when it comes to ensuring business productivity, continuity, and security. At the heart of these challenges is a new imperative to digitalize manual and paper-based processes so that remote workers can create, capture, and share the information they need in order to better serve their customers.
We worked with thought leaders throughout the industry to explore the tools and techniques needed to fully leverage our most valuable asset – information. We've compiled their best practices, tips, and more into this group of articles on how to:
Safely provide access to all business-critical information regardless of location
Extract insight from your information for agile decision-making
Automate the governance of growing volumes and variety of information
The time to get your documents, content, records, and processes in good digital order is now! Just fill out the form for your Free copy.