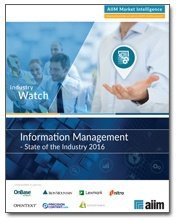 Managing and recording what the organization knows, what has been said, what inputs are received, what decisions and commitments have been made, and what results are achieved, is paramount to improvement and success.
Failure to manage this information, and make it available for sharing, search, controlled access, defined process, audit and secure archive limits operational capability, stunts new initiatives and exposes the business to potential liabilities.
In this executive summary, we've compiled our key findings, including:
How different ECM system strategies match the overall goals of the information management lifecycle
The governance and adoption issues that users face
The impact of extending access to mobile and the new cloud services

Read more in this FREE Executive Summary.