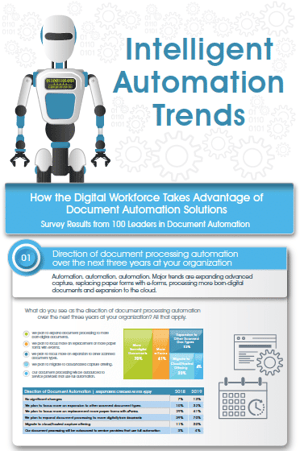 How the Digital Workforce Takes Advantage of Document Automation Solutions
As the volume, variety, and most importantly the value of information continues to rise, the responsibility for Information Professionals to bring paper-born and unstructured content into the information ecosystem to connect with business systems and processes continues to grow.
New challenges, new technology, and a complex landscape have given birth to new and interesting trends. To get a complete view what's occurring in the world of intelligent automation, we surveyed 100 Information Capture Leaders from around the globe.
Download this FREE infographic to see the top 8 trends uncovered from this research and AIIM's recommendations.
Underwritten by: