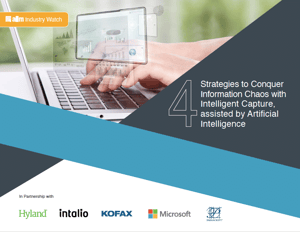 The idea of capturing information has a long history – it's a practice that's been a part of the content management equation for over two decades. But, as we continue to see both the volume and variety of information coming into our organizations expected to increase by almost 5 times in the next two years, traditional capture as a tactical priority just won't do.
It is the convergence of these twin forces – information volume and information variety – that: 1) creates information chaos, 2) makes true digital transformation so challenging, and 3) requires a new strategic approach to capture – a practice we're calling Intelligent Capture.
This report provides 4 things that top-performing organizations do to help conquer the rising tide of information chaos with Intelligent Capture, including:
An Intelligent Capture Checklist
How to Focus Capture Efforts at the Point of Origination
Meaningful Process Metrics to Help You Measure Progress
Future considerations like Artificial Intelligence and Machine Learning
Just fill out the form for your Free copy.
This Report is approved for 1.0 hour of CIP Maintenance Credits.