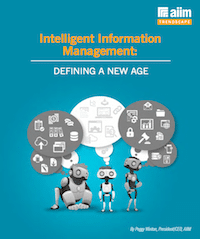 When the Leadership Council (LC) met at the end of 2016, it was amid heated discussion about the impact of Gartner's introduction of a new term for what has been known as Enterprise Content Management (ECM): Content Services.
Since that time, AIIM has introduced what we believe is a term better suited to describe the new world of content management and its potential for transforming business: Intelligent Information Management (IIM). The IIM concepts were presented at the annual AIIM conference in March, 2017 and further developed in a report, "The Next Wave: Moving from ECM to Intelligent Information Management" released in partnership with several LC members in June, 2017.
While the terminology and labelling may be debatable, the limits of traditional ECM and the need for change are not. The goal of the June LC summits in the US and UK was twofold:
To further vet the paper's key findings among a broader audience of users and suppliers with a view to identifying and prioritizing where AIIM and the industry should fill specific knowledge and capability gaps; and
To challenge those perceptions with debate over new applications of information in the workplace, the next big innovation waves, and the impact that both will have on the future of information management.
Your digital transformation begins with Intelligent Information Management.