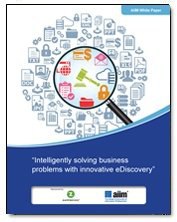 Electronically stored information (ESI) is growing at an exponential rate. Information professionals involved in the eDiscovery process are required to work with legal counsel to produce that "needle in a haystack" for use in civil litigation.
A significant part of this process is searching for and finding all relevant documents, and content related to the case. In this research-based report, we explain where to begin your search and how to find it all using the most automated and intelligent processes.

Click the orange button below to get your free copy.