Can Robotic Process Automation improve your information management strategy? Find out with this FREE Tip Sheet.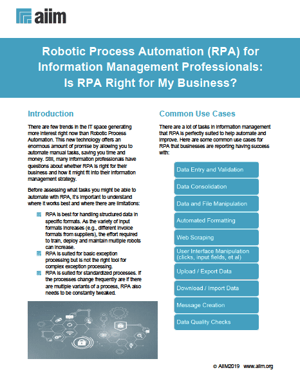 There are few trends in the IT space generating more interest right now than Robotic Process Automation. This new technology offers an enormous amount of promise by allowing you to automate manual tasks, saving you time and money. Still, many information professionals have questions about whether RPA is right for their business and how it might fit into their information management strategy.
Before assessing what tasks you might be able to automate with RPA, it's important to understand where it works best and where there are limitations.
Download this Tip Sheet to explore:
The Limitations of RPA- Where RPA works best and where it doesn't
Information Management Use Cases- Common places to incorporate RPA
How to Assess if RPA is a Good Fit- 5 questions to ask to assess RPA
And more!
Simply fill out the form on this page to download this free tip sheet and learn more.