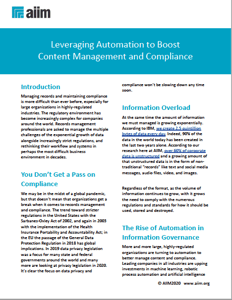 Managing records and maintaining compliance is more difficult than ever before, especially for large organizations in highly-regulated industries. The regulatory environment has become increasingly complex for companies around the world.
Records and information management professionals are now being asked to manage the challenges of the exponential data growth alongside increasingly strict regulations. Rethinking your workflow and systems in perhaps the most difficult business environment in decades.
How can you begin to take advantage of automation to boost records management and compliance?
Get your free copy of this tip sheet to learn how your organization can respond by implementing deep analytics and control of data that spans all entry points, endpoints, file shares, servers and cloud repositories.