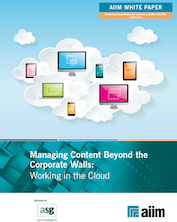 Pressure is mounting on organizations to support information capture and access, and process interaction beyond the corporate walls. However, recent AIIM research finds that 82% of those polled continue the tradition of accessing content via corporate file shares and virtual drives.
The challenge is to break down corporate walls to provide a flexible and secure environment supporting the needs of a growing mobile workforce, external partners, and clients. Organizations must extend their business processes and access to business information in an effective and secure manner regardless of device type.
Download this paper to learn how cloud applications can be leveraged to enhance and extend business processes beyond their corporate walls and support the increasing use of mobile devices.
Download this white paper to learn:
Why efficient, device and platform-agnostic content solutions across the enterprise can keep your organization one step ahead of competitors
What's next on your peers' agenda for cloud, their strategic direction and preparedness
Our recommendations