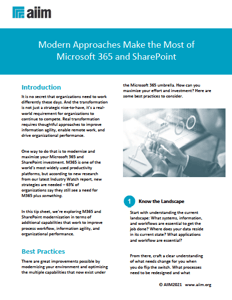 Microsoft 365 is one of the world's most widely used productivity platforms, but according to AIIM research, new strategies are needed. Over 60% of organizations surveyed say they still see a need for M365 plus something.
What is the missing ingredient from your M365 strategy? Many report the need for improved process workflows, information agility, and organizational performance.
There are great improvements possible by modernizing your environment and optimizing the multiple capabilities that now exist under the Microsoft 365 umbrella. How can you maximize your effort and investment?
Download your copy of this tip sheet to explore M365 and SharePoint modernization in terms of additional capabilities that work to improve and maximize your approach.