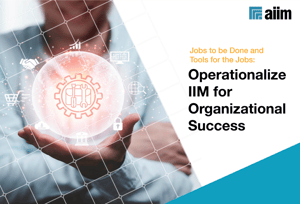 According to AIIM research, companies seeing real process improvement as a result of digital transformation are successful in the aligning technology innovations with the needs and expectations of the customer – both internal and external.
By honing skills in three key functional areas – process improvement, information access, and data extraction/analysis – Information Management professionals in these organizations created for themselves an indispensable role in moving the organization to its higher order goals.
But how do you do it?
Download your free copy today to get the inside scoop of best practices and tools needed to do these jobs.
Sponsors