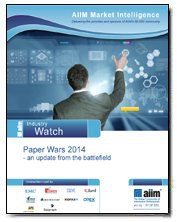 The arguments for keeping electronic documents to save office space, improve findability and reduce waste are well rehearsed, and yet billions of unnecessary paper copies are still printed around the world every day.
At the same time, a very strong case is being made for all-digital processes for improved productivity and lower costs, with the biggest impact being speed of response -- response to inbound mail, response to bottlenecks, response to regulatory changes, and response to the customer.
Let the battle begin! In AIIM's newest Industry Watch report, we look at:
the amount of paper in the office
the battle plan to remove it
the take up of digital mailrooms & multi-channel capture
the influence of mobile and cloud
the progress towards paper-free processes and the ROI.
Learn more. Get your copy now.