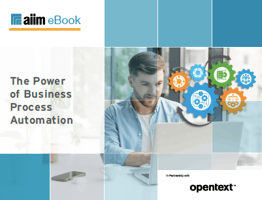 The organizational skills and capabilities needed to succeed today are very different than they were just a few years
ago. Now more than ever, organizations need to leverage remote work as an advantage, increase information agility, and drive business growth by adopting new ways of working with information and systems that create increased customer satisfaction and competitive advantage.
What techniques and technologies will advance the business in terms of digital transformation and organizational performance? One important tool is Business Process Automation.
Download your free copy of this ebook to explore the potential of process automation, some of the implications and advantages, and recommended ways to map your process automation journey.
Underwritten by: