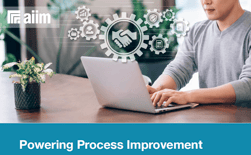 Organizations of all sizes and types are under increasing pressure to transform. As the race to redefine success heats up, organizations that continue to rely on old ways of working risk being left behind by their more nimble competitors.
Today, the ability to speed the pace of processes, improve customer experience, and boost organizational performance will be deciding factors that determine success. The question is: Are you powering process improvements in ways that make a difference?
Download this tipsheet to find out more! You'll learn how modern approaches can help organizations power their process improvement efforts and improve organizational performance.