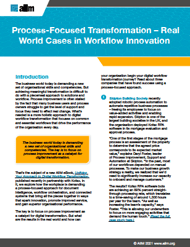 Now more than ever, organisations must embrace digital transformation and drive superior organisational performance. The competitive advantage will be found by expanding digital workflows across all critical business processes to maximize agility, improve performance, and deliver enhanced experiences for customers.
The key is to focus on process improvement as a catalyst for digital transformation. But what are the results in the real world and how can your organisation begin your digital workflow transformation journey?
Download your free copy of this tip sheet to learn about three companies that have found success using a process-focused approach.
Underwritten by: