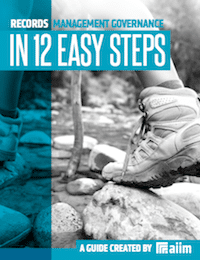 This guide will help you avoid unfortunate and costly non-compliance issues with your records.
Professionals across many industries continue to face significant records management challenges. Traditionally focused on maintaining physical records, companies now must find ways to manage a rising tide of electronic information.
Those that fail to update and standardize their records management capabilities may bear higher operational costs, which during an economic downturn could have a multiplying impact on your bottom line. Use this checklist and learn the best practices to manage YOUR organization's records in 12 easy steps.