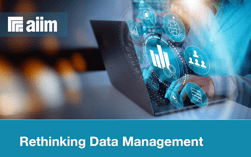 The paradigm of information management is changing, becoming broader, more inclusive, and more impactful to the business. Whereas in the past, most of the focus on information management has been on data risk, compliance, and security, the new paradigm embraces actions to improve the organization's performance. It's now essential that organizations effectively use data to improve key performance areas like customer experience, market share, and profit.
This is an essential transition because expectations are changing. Information management professionals can no longer sit on the sidelines using data governance as the sole criterion of success. Making a mark requires actively aligning data strategies with business strategies and contributing in ways that move the needle in terms of innovation and transformation. The expectations of technology developers and solutions suppliers are changing as well. It's no longer good enough to help clients save money. They need to make money too.
Download this brief to learn how leading organizations are rethinking data management by constructing new notions of how workers must find, understand, and take action on information.