Learn how to take your information governance strategy BEYOND just risk mitigation and target new opportunities and benefits.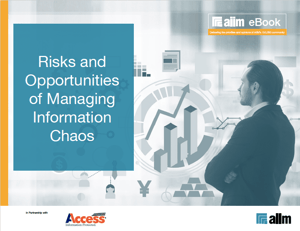 A more expansive definition of information governance is emerging that has broader implications and benefits. While risk mitigation remains an important part of the mix, organizations are now beginning to view information as a powerful tool to create competitive advantage and opportunity. Organizations that overcome information chaos emerge as prizewinners in the new paradigm, ensuring security and compliance while doing more with data to improve processes and products, boost brand satisfaction, and enable more impactful and strategic decisions.
Are you ready to explore the risks and opportunities of managing information and uncover new ways to future-proof your organization with well-thought approaches to intelligent information management? Then, get your FREE copy of this ebook and learn about:
The Cost of Info Chaos - What does it really cost to take control of the chaos?
Risk and Opportunity - An exploration of both sides of the equation.
Becoming Future Proof - How to use intelligent information management to capture opportunity.
Recommendations - 3 ways to reduce risk while increasing revenue and capturing new market opportunities.
Download your copy today and get started today!