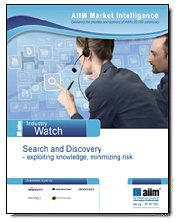 Searching for useful information is an essential ingredient of any knowledge worker's job. Providing the right cross-repository enterprise search tool is fundamental to their productivity, effectiveness, and compliance. Yet many are forced to rely on ECM search functions, which are often lacking in important ways.
In AIIM's newest Industry Watch report, you'll discover:
an in-depth look at the importance of search
the level of search tools deployed
issues with their use
connection to other systems
mechanisms for legal discovery and hold.
Learn more. Get your copy now.