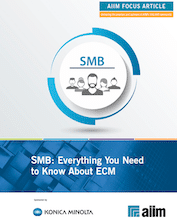 AIIM research finds that enterprise content management (ECM) and document management (DM) are on course for increased investment in over half of respondent organizations.
While budget limitations have often precluded enterprise content management (ECM) projects to be added to SMB agendas, improved scalability and a surge of more affordable, nimble ECM solutions have opened up new opportunities for small and medium sized businesses. However, to implement a successful ECM solution in the SMB environment, the same advice and best practices offered to large corporations won't apply.
In this focused article, we take a look at the essential information all SMBs need to know to kick-start their ECM initiative, and explore the unique requirements, leadership, cultural directives, and education needed to make it successful.
Find out:
How to evaluate your specific business needs and requirements
Where to turn for guidance, benchmarks, and support
Recommendations and key takeaways