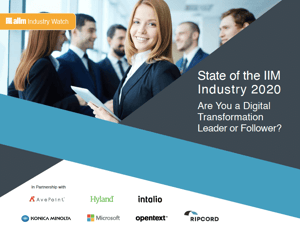 Here at AIIM, we've always viewed "Enterprise Content Management (ECM)" as more of a verb (something organizations do) than a noun (a characterization of a market segment). And, as organizations all over the globe continue to digitally transform, they demand a new set of information management capabilities. Intelligent Information Management (IIM) is a modern practice that unlocks the use of information in brand new ways to support the strategic goals of the business.
How are information management leaders deriving maximum value from IIM? We surveyed close to 500 organizations to find out. Download this free report for a look at the results of this research, including:
Creating, Capturing and Sharing Information

Digitalizing Information-Intensive Processes

Extracting Intelligence from Information

Automating Governance and Compliance



This Report is approved for 1.0 hour of CIP Maintenance Credits.