A FREE Report that combines independent research, data trends, and actionable takeaways!
2021 is shaping up as a year of opportunity for many organizations in building out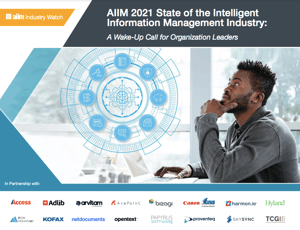 their information management strategies.
The long-term trends driving information chaos – increasing volumes and varieties of information – continue to accelerate.
Add to this the massive and immediate shift to remote working in 2020. In many ways, the year was a trial by fire for digital transformation readiness. How prepared was your organization?

This year, the pressures for integrated IIM strategies that treat information as a critical asset will remain. And it's time for organizations to act upon those pressures and capitalize upon the innovations that were made under duress in 2020. Download your copy to learn how to derive REAL VALUE from your organization's information.
Preview the Trends

Data, Trends, and Action
This report includes independent research drawn the AIIM Community, an informed audience that understands the benefits – and the reality – of information management in their organizations.

We've included a panel of certified information experts to offer advice and tips throughout the report. Meet your expert panel:
Download the full Industry Watch report by filling out the form on the right.