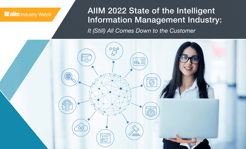 A FREE Report that combines independent research, data trends, and actionable takeaways!
The IIM practice and all the disciplines that comprise it have never been more important – but not for the reasons that some in our profession espouse. Despite a universal acknowledgement of the importance of digital transformation and the customer experience aspect thereof, our information management approaches don't always lend themselves to support this single most important transformation driver.
AIIM research shows that mindsets and methodologies centered on risk, compliance, and governance for governance's sake, only water the seeds of discontent when it comes to business executives and their business users. In contrast, those companies seeing improvement in the alignment of their information management strategies with their business strategies have purposefully focused on the needs and expectations of the customer, both internal and external. They realized alignment in incremental ways beginning with mapping key customer touch points to identify process improvement opportunities. They serve their internal customers by ensuring that the information needed to perform work is accurate and accessible. And, they have become more data literate, to help the business extract meaning from myriad data sources. Learning from them, we can see how the foundations of Intelligent Information Management can truly be leveraged and optimized to parlay information into new CUSTOMER wins.
Preview the Trends
Download your free copy today by filling out the form on the right. Enjoy!