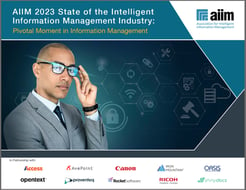 We are at a pivotal moment in the information management space. We're moving beyond a strict focus on governance, risk, and compliance to a broader embracement of information management as a contributor to organizational performance. How well we manage enterprise information has everything to do with how well that enterprise performs.
AIIM research shows that perspectives are changing. For years, organizations aspired to realize the full promise of Enterprise Content Management (ECM) with its electronic document capture, storage, and processing — and many got there. More recently, those same organizations have been striving towards digital transformation to digitalize their businesses completely.
In this 2023 State of the Intelligent Information Management Industry report, we use user-generated intelligence to uncover the realities of post-pandemic information management and its impact on current industry and economic forces.
The key findings in the report point to a number of opportunities for next-generation success and several roadblocks to getting there. Don't get left behind.
Download your copy today for the latest independent findings and three essential recommendations from AIIM.
Analyst B

riefing

:
Underwriters: