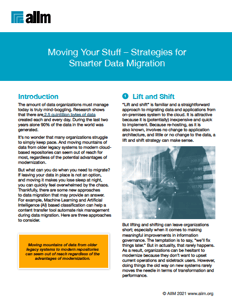 There are many reasons for data migration - everything from replacing or upgrading applications, to business process changes, data volume growth, or changing performance requirements. In all of these cases, one thing remains the same - the data not only needs to be moved from one place to another, but it also needs to fit for purpose in the new system.
As a result, many become frozen with indecision. If leaving your data in place is not an option, but moving it makes you lose sleep at night. You can quickly feel overwhelmed by the chaos. Thankfully, there are some new approaches to data migration that may provide an answer.
Get your copy of this FREE tip sheet to learn about three approaches to consider, including:
Lift and Shift - A straightforward approach to migrating data
Extensive Analysis - An approach that involves evaluating systems, workflows, and data repositories
Intelligent Migration - An automated approach fueled by AI and Machine Learning
Which is the right approach for your migration? Explore each of these approaches with a look at the pros and cons.