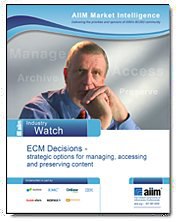 AIIM conducted an independent study of over 400 ECM users and discovered that 52% of their organizations have three or more content/records/document management systems in place.
Does this sound like your organization?
In this report, we investigate:
Whether it's best to accommodate, consolidate or federate existing systems
How to align information governance policies with this varied content
How to support users for remote and mobile access to content and the corporate knowledge base
This report was written to help you set a realistic ECM strategy for the future. Enjoy!