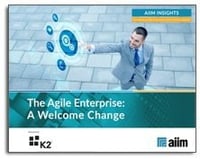 Business apps — fast, flexible, easy-to-build applications that streamline work and pull your information and systems together.
Today, in the enterprise, nothing is ever at rest; everything is fast, and getting faster. From critical business processes, ECM and capture, to human resource management, marketing, or email—everything seems to be running at a breakneck pace. Work is always working, even if we aren't. Business agility is the coin of the realm.
Attempts to keep up with the increasing speed of the enterprise through business process automation have, conversely, slowed things down. Many are now turning to business apps for an entirely new way to approach the question of business process automation and generate business agility. Modular business applications have the power to span an organization, drive business outcomes and deliver true competitive advantage. They can be rapidly built, easily adapted and are powerful enough to scale across siloed business systems and data.
In this white paper, we explore how modern business apps are changing the game, including:
New angles from which to accelerate your organization
How to create agile business solutions that are smart, reusable, and efficient
AIIM insights, commentary, and recommendations
Most importantly, learn how easily customizable, nimble, and rapidly constructed business apps are outmaneuvering traditional enterprise software to provide well documented ROI.