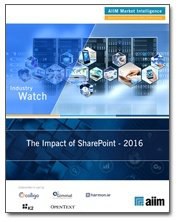 The SharePoint platform has evolved to become a digital workspace and universal interface.
SharePoint is being used in support of collaborative efforts of all kinds including co-authoring of documents, information sharing, and an integration point with all enterprise information sources.
In this study, we find that there is a slight increase over the last year of SharePoint use in an Enterprise Content Management (ECM) and Document Management (DM) role with 28% of respondents citing it is their only (10%) or main (18%) ECM/DM system.
However, can SharePoint ultimately be a platform upon which ECM, DM, RM, and collaboration can be built, implemented and expanded?
In this executive summary, we've compiled our key findings, including:
SharePoint adoption opportunities and challenges
How others in our community are utilizing SharePoint
Information to help you plan for your organization's future
Most importantly, you'll get the information you need to help your organization plan a long-term SharePoint strategy.