Ready, set, TRANSFORM! Learn about 3 steps to get your Digital Transformation started today!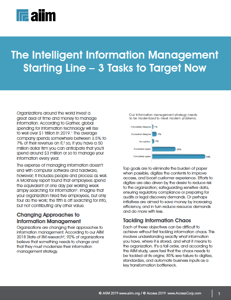 In addition to reducing risk and saving money, more and more organizations are looking to leverage the information they have to increase revenue, and capture new opportunities and new markets. In this way, they are defining a new way of working that truly leverages digital transformation. How can you do it? Download this FREE tip sheet to learn about three steps you can start tackling today, including:
Modernizing the infrastructure and setting the stage for transformation.
Evaluating your information stores and targeting key processes for transformation.
Establishing a cross-functional IIM team to drive change and sustain improvement.