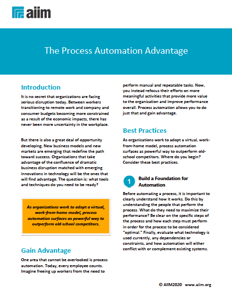 Disruption is all around us these days. Between employees transitioning to remote work and company and consumer budgets becoming more constrained as a result of the economic impacts, there has never been more uncertainty in the workplace.
As organizations work to adopt a virtual, work-from-home model, process automation has surfaced as a powerful tool to both overcome the disruption AND provide a competitive advantage.
How do you combat the disruption your facing with the process automation advantage?
Download this FREE tip sheet to learn more about the current disruptive trends and the best practices with process automation to overcome them.