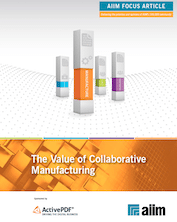 To meet the demands of today's dynamic markets, many organizations are realizing that it is no longer good enough to collaborate exclusively in-house; businesses today must make every effort to work seamlessly alongside external organizations and third parties, or risk falling behind their more social, collectively minded competitors. The manufacturing industry benefits greatly from heightened connection between the internal workforce, partners, and customers. Mobile accessibility, cloud solutions, and highly shareable file formats like PDF empower collaboration and offer countless benefits for teamwork in a manner that is transparent to the user.
In this four part article series surveying key industry verticals and enterprise horizontals, we zero in on the versatility and power of PDF in the enterprise.
Download this article to discover how PDF technologies can be applied to the manufacturing sector to create value in collaboration.
Learn about:
How mobile devices are conquering the enterprise and changing the ways users collaborate
Strategies to extend business beyond the corporate walls
Best practices and recommendations