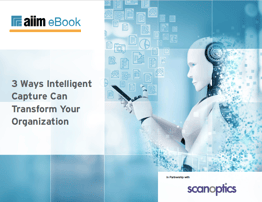 The very definition of "digital transformation" is, at the core, about digitizing processes and automating every part of how information gets ingested into an organization. But despite the innovations, many organizations continue to suffer the inefficiencies of manual process and paper-bound workflow in key business processes. This directly influences their performance and ultimately limits their competitive advantage.
The recent 2021 AIIM State of the Industry Report clearly shows the real-world struggle to transform, where 46% of AIIM members grade their organizations' efforts to digitize as either 'poor' or 'needs improvement'. This should be a wake-up call to C-level and Information Management executives everywhere.
Download your free copy of this ebook to guide your organization's digital transformation and three ways intelligent capture can help.