Over 90% of organizations currently use or plan to use Office 365 and/or SharePoint.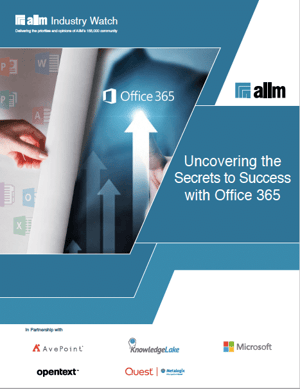 Love it or hate it, just about every organization at scale has some sort of Office 365 and/or SharePoint presence. In our survey alone, over 90% of respondents reported that they currently use or plan to use Office 365 and/or SharePoint.
But, just because the majority of us are using Office 365 doesn't mean we're all getting the most out of our implementations.
We surveyed close to 250 information professionals to uncover the secrets to success with Office 365.
Download this FREE report to explore the findings, key trends, and learn how leading organizations are getting the most out of their Office 365 implementations.
Get answers to your most important questions, such as:
What are the important issues with deployment? What issues are organizations encountering as they deploy Office 365, and what are their future plans for Office 365?
What does a typical Office 365 presence look like? How does this vary across organizations, and how have perceptions changed over the past five years?
Which tools/capabilities am I missing out on? With multiple capabilities that exist under the Office 365 umbrella, which should you be using?
What other options are available? What kinds of solutions are organizations using to complement Office 365 – or in place of it?
Simply fill out the form on this page to download this free report and learn more.
This Report is approved for 1.0 hour of CIP Maintenance Credits.