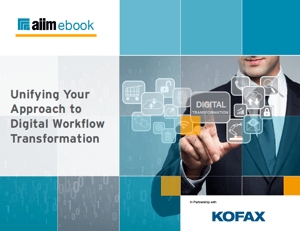 It's now more important than ever to embrace remote work, be more agile in working with information across regions, and adopt new ways of working that will make a noticeable difference in digital transformation and organisational performance.
But achieving meaningful transformation can feel impossible with a piecemeal approach to solutions and workflow. Disconnected systems and information silos can derail efficient teamwork and constrain your process improvement.
Are you working with duplicate solutions, multiple vendors, and/or disconnected strategies driving up costs, increasing complexity, and boosting inefficiency?
Are your process owners struggling to get the level of IT support and focus that they need to effect real change?
Are better solutions and approaches known, but unrealised, because of conflicting IT priorities and departmental budget constraints?
This creates an environment that, despite all good intentions, fosters chaotic performance overall.
Download your copy of this ebook to learn how to unify your strategy with a more holistic approach to digital workflow transformation that focuses on common and essential workflows that drive the performance of the organisation every day.
Underwritten by: