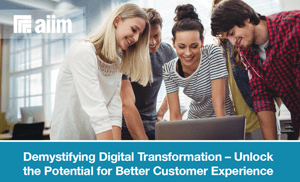 While digital transformation may seem as straightforward as getting rid of paper-based and manual processes, the transformational value is much more profound.
Today, digital transformation is about the ability to use information, technology, and people in ways that improve an organization's performance. This is essential for organizations to compete as demands for new digitally-enabled ways of working disrupt every aspect of doing business today, creating new markets and new competitors that were unforeseen just a few years ago.
The success of digital-first innovation and process improvement is found, in essence, by being smarter about how the organization uses information. In other words: If you're not using information, systems, and people intelligently, it's unlikely that you're doing much to improve performance and innovate. But how do you truly transform and begin to move the needle in ways that matter?
Download this brief to find out!