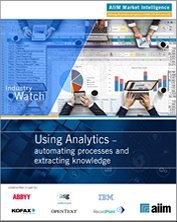 Beyond "big data" style business intelligence, analytics is driving auto-classification, content remediation, security correction, adaptive case management, and process monitoring and modeling. The first step for many analytic processes is capture and recognition – from paper, and from other multiple inbound channels.
In this comprehensive report summary, we take an in-depth look at:
The take-up of analytics applications
The success factors and outcomes
Integration across repositories
The issues, benefits, and ROI resulting from using analytics
Above all, we look at the progress of organizations moving towards the incorporation of analytics to automate their business processes, and extract valuable customer and business knowledge to enhance their decision-making processes.