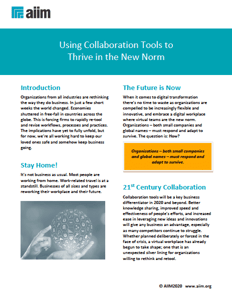 When it comes to digital transformation, there's no time to waste as organizations are compelled to be increasingly flexible and innovative, and embrace a digital workplace where virtual teams are the new norm.
Organizations – both small companies and global names – must respond and adapt to survive. The question is: How?
In this tip sheet, we explore 21st Century collaboration. Download your free copy to learn about:
Enabling a Single View of Content
Anywhere, Anytime, Any Device Access of Content
Database-Driven Co-authoring
As the dust settles around the global closures and the move to the digital office, the winners will be those organizations that are able to adapt and react with new ways of working that are agile and flexible enough to survive and thrive in today's new norm.
Underwritten by: