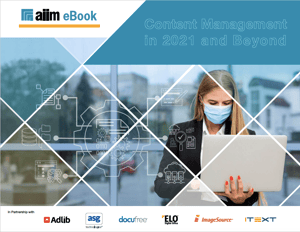 The year 2020 was a historic one for the information management industry. For many, it was the year we went digital and digitalized processes more than ever before. For others, it was the year we found out that we may not be as far along on our digital transformations as we thought. Regardless of which category you fall into, last year's mad dash to remote and distributed working highlighted two critical points about the future of information management:
Workers need unfettered (yet appropriate) access to enterprise data if the organization is to respond to sudden and drastic change.


Going part-way into business process transformation just isn't enough.
As we reflect back on the year that was, many of us are looking for lessons in the challenges of 2020 to find new and better ways to incorporate scale and agility into our information management strategies. With this in mind, we worked with thought leaders and experts throughout the industry to explore the tools and techniques required to fully leverage our information now and into the future, to enable remote workers to:
Create, capture, and share the information they need to do their job
Safely access all business-critical information regardless of where it lives
Extract insight from information for decision-making and to seamlessly deliver content in context
Automate the governance of growing volumes of information, including customer personal data
Download your copy and explore these capabilities and how changing business drivers are impacting their application. You'll also learn how your peers in a variety of industries are pivoting to meet these new challenges and rising to new levels of excellence.
Watch below to preview the 10 articles included in this ebook: