Bots 101 - Learn what they are, how they work, and how your organization can use them.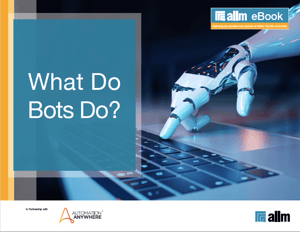 While the term "bots" often conjures an image of a far-away future, the fact is that bots are at work every day, automating and streamlining a wide variety of processes and interactions.
Don't be intimidated by these bits of automated software, as you'll discover in this eBook they aren't as scary as they may seem. More importantly, they are key to enabling Intelligent Automation and fueling your Digital Transformation.
In this eBook, we'll explore the basics of bots, including:
What Exactly Are Bots
What Are the Common Use-Cases
3 Real-World Case Studies of Bots in Use
How Can I Apply Bots to My Business
Underwritten by: