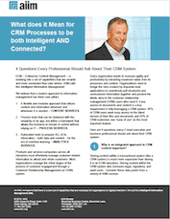 Products and services companies across all industries must effectively manage customer-related information to attract and retain customers. Most organizations manage the initial stages of the process of customer engagement through a Customer Relationship Management (or CRM) system.
Every organization wants to increase agility and productivity by extracting maximum value from its processes and content. Organizations need to bridge the silos created by disparate lead applications to seamlessly pull structured and unstructured information together and present the whole story to the customer relationship management (CRM) users who need it. Easy access to documents and content is a key requirement in fully leveraging a CRM system. 95% of CRM users want easy access to the latest version of their files and documents and 55% of CRM customers see "ease of use" as the most important feature.
Download this FREE tip sheet to learn more about these 4 questions every C-level executive and business professional should ask about their CRM system:
Why is an integrated approach to CRM content important?
What are the implications of a lack of integration between ECM and CRM systems?
Who benefits from an integrated approach to CRM content?
What are the benefits of an integrated content approach your CRM system?