Process owners and individuals can now implement their OWN enterprise solutions - they don't need us for that anymore.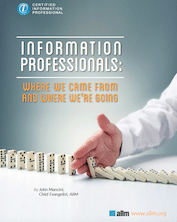 So, what then becomes the role of the Information Professional?
We've got all the answers for you in our free eBook, Information Professionals: Where We Came From and Where We're Going.
In this eBook, we explore:
The history of where information professionals came from
Modern advancements in enterprise technology
What the future looks like for information professionals
Simply fill out the form on this page to get your free copy!