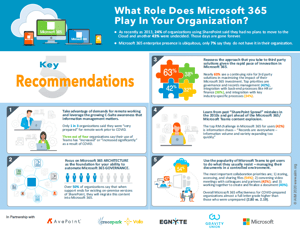 Over 90% of organizations use Microsoft 365 in some fashion – particularly relative to collaborative content services and remote working demands created by COVID.
How are these new demands changing the role that M365 plays in collaboration and knowledge management?
We surveyed over 230 information professionals to find out.
This infographic outlines five key recommendations from the research study to help you make the most of your Microsoft 365 and SharePoint investments.
Underwritten by:
AvePoint, Creospark & Valo, Egnyte, Gravity Union, and Microsoft