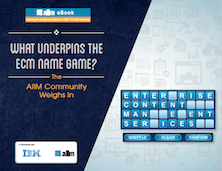 The death of ECM is the most significant change to the information management rollcall in a decade—it's an earthquake of an announcement; organizations and information professionals can't ignore the blaring emergency whistles: Is ECM dead? What is Content Services? How do we profit in this new generation of information management, and what is the relevance of the terms "content", "information", or "data" in 2017 and beyond?
Download this eBook and let us help demystify the next generation of information management, and outline a community definition—sourced from the voices of 289 respondents of a recent AIIM survey—that speaks in practical business terms that are most relevant to end users.
Core to this definition we must answer several important questions:
What is Content in 2017?
Is ECM still relevant?
What does next generation information management mean for my organization?
What information management capabilities are essential?
And what are the next steps?