"Uber, the world's largest taxi company, owns no vehicles. Facebook, the world's most popular media owner, creates no content. And Airbnb, the world's largest accommodation provider, owns no real estate. Something interesting is happening." - Tom Goodwin, Havas Media, in Techcruch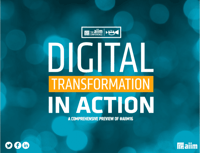 New challenges and opportunities are presenting themselves everywhere, including in your role as an Information Professional. If you want your organization to be the next Netflix instead of the next Blockbuster, you need to lead them through a Digital Transformation.
In this eBook, we will share with you the 21 tips you need to know to put Digital Transformation in Action. You will learn how to:
Build a roadmap to address your Automation, Security/Governance, and Analytics problems
Create a transformation strategy and implement your plan
Download this eBook and put Digital Transformation in Action today.