Over 40% of the world's population is now mobile!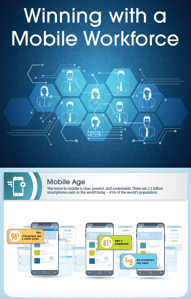 The quest to improve your digital transformation journey – regardless of where your workers and customers are located – is clear, present, and undeniable. Now with 3.3 billion smartphone users in the world today (43% of the world's population), it's become more important than ever for businesses to empower their workforce with the same mobility.
Adopting a mobile-friendly operational approach allows your company to be more agile and responsive and embrace people and resources outside of their physical location.
Download this FREE infographic to explore:
What the Mobile Age Means for Your Business
Where Leading Organizations are Prioritizing Their Efforts
Drivers for a Digital Workforce
Recommendations to Move Your Strategy Forward