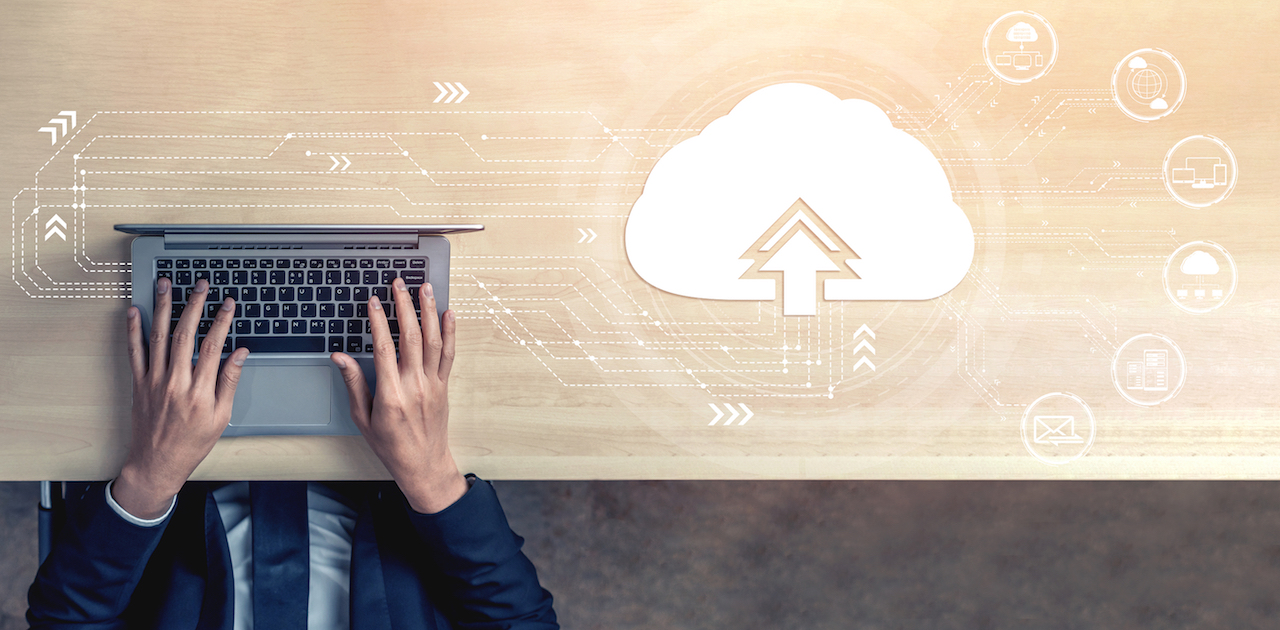 Subscribe
Build a Cloud-First Content Management Strategy in Three Simple Steps
Global research and advisory firm, Gartner, predicts that by 2024 more than 45% of IT spending will shift from legacy on-premises solutions to the cloud. Cloud infrastructure spending is expected to jump from $63 billion in 2020 to $81 billion by 2022.
The cloud race was well underway in 2020 when COVID reared its unfortunate head and sent businesses still on the cloud adoption starting blocks into a frenzy. Those who had already adopted and implemented a cloud-first strategy sat smugly in the stands.
The perks of a cloud-first approach for data management have been well documented: unified, content-services platforms accessed anytime, anywhere by empowered employees leading to improved productivity and reduced operational costs.
---
---
Benefits of a Cloud-First Data Management Strategy
To achieve a successful and optimized migration to a cloud content management platform, you need a robust data management strategy. This enables you to:
Increase productivity – employees will have the tools and content they need at their fingertips, wherever they're working


Save Time – with automatic back-ups, data analysis, and classification (when set up right)


Improve Decision Making – your leadership team can make key business decisions based on current, relevant, and enriched data



Reduce Storage Costs

– by getting rid of your ROT (redundant, obsolete or trivial) data BEFORE migration, plus the potential cost saving of infrastructure maintenance over license fees.


Lower Security and Compliance Risk – the heightened classification and organization features of most cloud content platforms automatically ensure governance and regulatory protocols.
How can you achieve these lofty goals?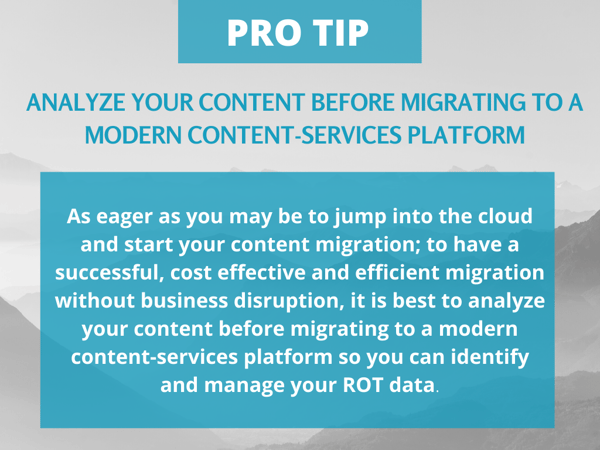 Step 1: Improve Content Metadata
High-quality metadata is essential to improving search results. But expecting employees to consistently input useful metadata is a losing battle. So, remove the human element altogether and let Artificial Intelligence (AI) and Deep Learning (DL) tools analyze content, then automatically add the relevant metadata keywords and descriptions. Content is now easily searchable, productivity is improved and time is saved.
Step 2: Classify Your Data
Data classification is key to ensuring information security and compliance by accurately mapping and segmenting sensitive data. It also reduces storage costs by eradicating ROT data. By exploiting AI and Machine Learning, data can automatically be classified based on the business rules you set. This not only helps you better organize and manage your documents but applies retention policies and proactively engineers more efficient content governance.
Step 3: Migrate Content to the Right Platform
After enriching and classifying your content, you now need to decide where to move it. Migrating content to the right platform will increase business efficiency, productivity and save resources and storage costs. You should also think about the function of the content and the data it holds. Is it personal, collaborative, or legal? Who needs to access it?
For example, you can:
Move office tools to Office 365 or other EFSS tools
Move archives to cloud storage repositories
Move personal data to OneDrive or other EFSS solutions
Move line of business applications-related data into a chosen content services platform, such as SharePoint Online, M-Files, Egnyte, Box, Google, etc.
Integrate your data with chosen LoB applications like Dynamics, Salesforce, SAP, Oracle ERP, and many more

Kickstart your Migration to the Cloud
Now that you have the foundations for your cloud-first data management strategy, you can begin to take advantage of all the benefits cloud content management platforms have to offer. While data management is an ongoing task, your cloud content migration should only need to happen once if it's done right the first time. By analyzing your content before migration and following the steps above, your business should be well on your way to the cloud race finish line.