automation | bpm | business process management | process automation | robotic process automation | rpa | training
I've been involved in some way or another in the world of business process automation (BPM) for over twenty years. I was the author of AIIM's first BPM training course back in 2006. I'm a big fan of the idea of reengineering business processes, but there is no getting away from the fact that BPM projects are complex and scary – they require buy-in from the top (which is always difficult) and are seldom inexpensive undertakings.
analytics | bpm | business process management
Businesses have come to realize the importance of analyzing their processes as the key to progression. According to recent AIIM research, by embracing BPM practices, one-third of organizations have decreased their review and approval cycles, over 60% have improved routing to and between individuals, and 42% have experienced greater organizational agility and routing between processes.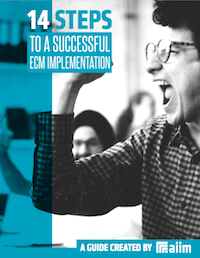 14 Steps to a Successful ECM Implementation
Making an ECM implementation successful requires planning and attention to detail. The best way to create the right solution is to identify organizational goals and priorities. Learn how to manage a successful implementation in our free guide.
bpm | business process management | ecm
I have some awesome new educational resources to tell you about, but first I'd like to extend a very special invitation for you to join the AIIM Online Community. This online forum is the perfect place to engage in discussions with your peers, get your questions answered, find a mentor, find meetings in your area, and more! Check it out - it's THE place where the AIIM Tribe congregates throughout the year to lurk, learn, and reach out for – and give – assistance. Now on to more FREE stuff, here are a couple of great resources that have been recently published. Check them out below.
business agility | business process management
Today, in the enterprise, nothing is ever at rest; everything is fast, and getting faster. From critical business processes, ECM and capture, to human resource management, marketing, or email—everything seems to be running at a breakneck pace. Work is always working, even if we aren't. Business agility is the coin of the realm.
bpm | business process management | paper free day | world paper free day
Worldwide, the promise of the paper-free enterprise has made the rounds for decades. While digital transformation is still on the horizon and drifts nearer, many voices doubt whether paperless ambitions will ever come to shore to create real change in our organizations. The AIIM Industry Watch Report titled "Paper Free in 2016 - Are we there yet?" tells a different story. While there is still a long road ahead, interest and motivation toward a paper-free business environment is increasing, and AIIM research finds that a quarter of respondents already indicate running a clear desk/paper-free workplace, and 43% say paper is decreasing in their offices somewhat to rapidly.
bpm | business process management | paperfree office | paperless processes
For years, AIIM has been a major advocate in the paper-free movement. Through our research, resources, and events we've preached the importance and benefits of reducing paper in business and major strides have been made so far.