digitization | erm | records management
There is nothing that brings a Digital Transformation journey to a halt more than a records management program that's stuck in the past. A modern enterprise needs records management practices that move the business forward, not hold it back.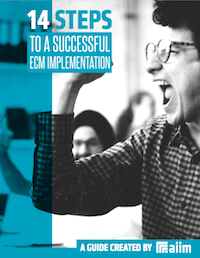 14 Steps to a Successful ECM Implementation
Making an ECM implementation successful requires planning and attention to detail. The best way to create the right solution is to identify organizational goals and priorities. Learn how to manage a successful implementation in our free guide.
automation | compliance | governance | records management
In The State of Intelligent Information Management: Getting Ahead of the Digital Transformation Curve and in GDPR after the Deadline: Progress, But a Long Way to Go, AIIM began an examination of one of the four key IIM practice areas — Automating Compliance and Governance.
Legacy | digital transformation, | digitization | machine learning | modern ecm | records management
Are you planning to modernize your information management strategy with machine learning? You're not alone. According to AIIM research, 51% of organizations plan to spend "more" or "a lot more" in the next 18-24 months on their efforts to leverage analytics and machine learning. This task can be frustrating to tackle, and for this, we have a solution for you.
Legacy | digital transformation, | digitization | modern ecm | records management
The rapid increase of "Big Content" in the digital age has culminated an array of costly legacy information systems and technologies that store and manage content but with no way to modernize or connect to each other. This begs the question: How do you strategically modernize to move forward and also work – efficiently – in your multiple systems? How do you realize your ROI?
big data | digital transformation, | digitization | office365 | records management
Are you finding yourself overwhelmed by the amount of data you have to manage? While it's great to stay up with the latest technology, digital transformation can sometimes leave people feeling like there was a document "explosion" in their department. Not to worry, we're here to help.