automation | content management | enterprise content management | records management
Guest Post: Joanne E. Novak from Konica Minolta Business Solutions. For the past 3 years, the Clerk of Common Pleas Court in Clark County, OH, Melissa Tuttle, has been utilizing a content management tool to automate her business workflows. Like many Counties, Melissa and her team deal with a lot of paperwork and file types. Utilizing a content management tool has helped them eliminate the time-consuming burden of pulling paper files manually and instead utilize automation so that Melissa and her team can do their jobs better. "[Our content management tool] is not just a scanning tool, but much more…to help the workflow and integrations, and help us achieve our goals in running the court system." - Melissa Tuttle, Clerk of Common Pleas Court, Clark County, OH This county adopted technology over a decade ago to become more efficient. Yet, today there are many other counties in the US still struggling with manual processes and paper files. With each state creating their own guidelines for public record requests, it's become a growing challenge for the clerk's office to respond "as quickly as possible" to provide the requested information.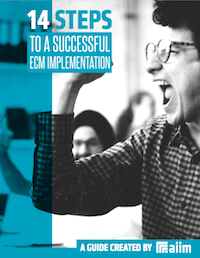 14 Steps to a Successful ECM Implementation
Making an ECM implementation successful requires planning and attention to detail. The best way to create the right solution is to identify organizational goals and priorities. Learn how to manage a successful implementation in our free guide.
digitization | erm | records management
There is nothing that brings a Digital Transformation journey to a halt more than a records management program that's stuck in the past. A modern enterprise needs records management practices that move the business forward, not hold it back.
automation | compliance | governance | records management
In The State of Intelligent Information Management: Getting Ahead of the Digital Transformation Curve and in GDPR after the Deadline: Progress, But a Long Way to Go, AIIM began an examination of one of the four key IIM practice areas — Automating Compliance and Governance.
Legacy | digital transformation, | digitization | machine learning | modern ecm | records management
Are you planning to modernize your information management strategy with machine learning? You're not alone. According to AIIM research, 51% of organizations plan to spend "more" or "a lot more" in the next 18-24 months on their efforts to leverage analytics and machine learning. This task can be frustrating to tackle, and for this, we have a solution for you.
Legacy | digital transformation, | digitization | modern ecm | records management
The rapid increase of "Big Content" in the digital age has culminated an array of costly legacy information systems and technologies that store and manage content but with no way to modernize or connect to each other. This begs the question: How do you strategically modernize to move forward and also work – efficiently – in your multiple systems? How do you realize your ROI?