cloud | digital transformation, | intelligent information management
Today's businesses run in the cloud. Organizations are embracing a new way of working in a cloud-native environment that enables content to move effortlessly between teams, partners and customers. This is a powerful way to run the business without compromising on security, governance, and compliance. A 2018 IDG Cloud Computing Study found that 77% of enterprises have at least one application or a portion of their enterprise computing infrastructure in the cloud, and adoption is climbing. Furthermore, according to our AIIM 2018 State of the Industry study, over 35% of respondents said that their organization was moving "more to the cloud" over the next 12 months.
AI | cloud | content services | data | information management | intelligent information management
In today's world, where the consumer is king, excellent customer experience is imperative for the success of your business. To achieve this, your data cannot be fragmented, redundant, obsolete, or inaccessible. Most organizations are currently dealing with more information than they can handle. This can be expensive as resources on storing, protecting, and securing information are costly. It's important to understand what data you have, why you have it, and why you need it - it's then that your data can be leveraged as an asset. [FREE Webinar: Learn more from this Case Study on Leveraging Data to Transform Customer Experience]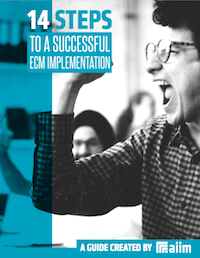 14 Steps to a Successful ECM Implementation
Making an ECM implementation successful requires planning and attention to detail. The best way to create the right solution is to identify organizational goals and priorities. Learn how to manage a successful implementation in our free guide.
cloud | cloud computing | cloud content management | training
If we were to believe everything we hear in the press, then all computing and data storage is moving to the cloud — and quickly! The reality, though, is more nuanced. Firstly, there is no singular cloud; instead, there are hundreds of clouds to choose from. Secondly, not everything is moving to the cloud, and even the stuff that is, is moving slowly. The world of Information Management has been somewhat slow and reluctant to move to the cloud, and often with good reason.
cloud | cloud content management | content migration | file migration
The movement to the cloud is past the tipping point. Cloud solutions are no longer a question of "should we?" but rather "when?" Organizations may not be ready to go 100% to the cloud, but for nearly 80% of organizations, cloud is a critical part of their strategy. Consider this data from a Fall 2017 AIIM survey of 182 end user organizations:
cloud | cloud computing | cloud content management
I recently came upon this white paper from Docuware – Plan Your Move to Cloud Office Automation. There's a lot to like in this white paper. This particular section caught my eye – particularly re organizations that are still "philosophically" resistant to the cloud – "Why cloud matters to you. And your customers." Reason 1 -- The "weight" of on-premises. Despite the commoditization of storage, on-premise scale is difficult to achieve. And enterprise software, typically consumed by licenses, is expensive to buy, install and integrate. Reason 2 – The "lightness" of cloud. Benefits of cloud solutions include: employee "centricity" (anywhere, anytime, any device); cost structure -- the entire model of expense is flipped: lighter subscriptions to services can be categorized as operational expenses rather than capital expenditures. scalability and operational flexibility simplified maintenance rapid deployment security leverage by scale Reason 3 – Benefits of scale available to even the smallest players. Cloud services now enable even the smallest competitor to deliver a game-changing experience via massively scalable storage and computational firepower to crunch the largest sets of data, to provide the analytics to understand it, and the security to lock it all down. The cloud content management gap is closing; we are approaching a tipping point. In a recent AIIM survey, 78% of organizations say that "if they were considering a new, replacement or consolidated ECM system," hybrid cloud capabilities would be important. 18% say these capabilities would be "vital" and an additional 32% say they would be "very important." I've posted a copy of the free white paper HERE. Check it out.
FIle Shares | cloud | collaboration
[This is a guest post by Travis Roe from Hyland's Cloud team.]