cloud | cloud computing | cloud content management | training
If we were to believe everything we hear in the press, then all computing and data storage is moving to the cloud — and quickly! The reality, though, is more nuanced. Firstly, there is no singular cloud; instead, there are hundreds of clouds to choose from. Secondly, not everything is moving to the cloud, and even the stuff that is, is moving slowly. The world of Information Management has been somewhat slow and reluctant to move to the cloud, and often with good reason.
cloud | cloud content management | content migration | file migration
The movement to the cloud is past the tipping point. Cloud solutions are no longer a question of "should we?" but rather "when?" Organizations may not be ready to go 100% to the cloud, but for nearly 80% of organizations, cloud is a critical part of their strategy. Consider this data from a Fall 2017 AIIM survey of 182 end user organizations: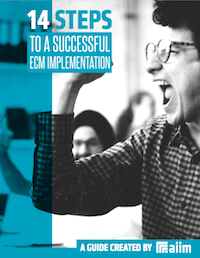 14 Steps to a Successful ECM Implementation
Making an ECM implementation successful requires planning and attention to detail. The best way to create the right solution is to identify organizational goals and priorities. Learn how to manage a successful implementation in our free guide.
cloud | cloud computing | cloud content management
I recently came upon this white paper from Docuware – Plan Your Move to Cloud Office Automation. There's a lot to like in this white paper. This particular section caught my eye – particularly re organizations that are still "philosophically" resistant to the cloud – "Why cloud matters to you. And your customers." Reason 1 -- The "weight" of on-premises. Despite the commoditization of storage, on-premise scale is difficult to achieve. And enterprise software, typically consumed by licenses, is expensive to buy, install and integrate. Reason 2 – The "lightness" of cloud. Benefits of cloud solutions include: employee "centricity" (anywhere, anytime, any device); cost structure -- the entire model of expense is flipped: lighter subscriptions to services can be categorized as operational expenses rather than capital expenditures. scalability and operational flexibility simplified maintenance rapid deployment security leverage by scale Reason 3 – Benefits of scale available to even the smallest players. Cloud services now enable even the smallest competitor to deliver a game-changing experience via massively scalable storage and computational firepower to crunch the largest sets of data, to provide the analytics to understand it, and the security to lock it all down. The cloud content management gap is closing; we are approaching a tipping point. In a recent AIIM survey, 78% of organizations say that "if they were considering a new, replacement or consolidated ECM system," hybrid cloud capabilities would be important. 18% say these capabilities would be "vital" and an additional 32% say they would be "very important." I've posted a copy of the free white paper HERE. Check it out.
FIle Shares | cloud | collaboration
[This is a guest post by Travis Roe from Hyland's Cloud team.]
cloud | cloud computing | content management | ecm
Organizations must provide a flexible and secure environment supporting the agile needs of their remote workforce, partners, and clients. Organizations must look beyond corporate walls and extend their business processes and access to business information in an effective, and secure manner regardless of device type.
chromebook | cloud | cloud computing | office365
Feb 9 I like to periodically upset my normal work and personal patterns and try something different for 30 days just to see what I learn from the process. So for the next 30 days, here's my little internal stress test: Can a real life business executive survive in the cloud on a $192 computer for 30 days? OK, it's arguable whether I am a "real life business executive," but as the lawyers like to say (my wife and I have been binging on Good Wife), let's stipulate that. For the next 30 days, I will try to survive only in the cloud on a Chromebook. More specifically, on a 2G Asus C20 that cost $192. We'll see. I will log any insurmountable difficulties or problems or observations and report back on a weekly basis. Feb 10 On my MAC, I love the ctr-alt-4 to take a screenshot of a portion of a screen -- especially useful in presentations. Hmmm...Wonder how I do this on this machine? OK, here's how to do it on a Chromebook. Works like a charm. Feb 11 Hmmm...apparently there is no Lync or Skype for Business online. Or am I missing something? Bizarre given all the rest of Office365 services are available online, including some products I've never heard of. Sigh. Have Skype for Business on my phone, so I will cover that base there. Sure can't do the following on a Chromebook. I need to make a movie of old pics for my wife for Valentine's Day. Back to the MAC for that -- here's the LINK, BTW! [Note: I'm hoping that Youtube actually sticks to and actually understands their own policies re copyrighted music -- which say if a song is on their list, it's OK, but the artist can place ads -- seems fair.] We'll see if I get a takedown notice. If I do, you're liable to see a silent movie. Feb 12 Day three of using only the Office365 interface for email, calendars, etc. rather than Outlook 2011 for MAC (2011?). This is taking some getting used to. Driving me nuts that you can't get to calendar directly from the email view (have to click back out to the main screen). Also, would love to turn off the nested conversations (I recently had some emails with broad distribution and the conversations are like a wild set of reproducing rabbits) but can't seem to find that in the settings. In general, except for typing, I find the user experience in Outlook for Android better than it is for Office365 when it comes to pretty simple email tasks. And Outlook 2011 much better for more complicated email tasks than either. But let me give things a chance. Speed of this machine is tolerable. Actually better than I thought. Then again, I'm sitting 6 inches from the router. Not really a function of this experiment, but just realized there is apparently no direct way to view Office365 tasks on an Android phone. Even using the web view rather than the app. You can download a separate app, but that sure seems like a pain. Really? Feb 16 Crap. Can't use my scanner. Took a picture with my phone and emailed it to myself, but not a very satisfying answer. Again, more peripheral challenges. I need to print a document out. Tried to use my Epson NX400 printer. Initially got these "instructions": However, following these instructions basically yields a circular chain that doesn't really go anywhere. NX400 is classified as a "classic" (i.e., computer connected, not web connected) printer), and the directions given for "classic" printers (go to chrome://devices and click the button for "add classic printer") are fine except there is no actual button for "add classic printer." Sigh. Going to need to connect my MAC and print this doc out. I'm not sure what it is, but I find the Office365 search interface annoying. Feb 17 At the actual office-office today. The wifi is on the fritz, and there is no Ethernet connection on the Chromebook. Back to the MAC for a wired connection. So much for the cloud. Member to file -- for the cloud to work, you need an internet connection. Sigh. Feb 18 Had to print out pictures of flags from other countries for my wife's preschool class. For fans of Big Bang, this is their version of "Fun with Flags." Back to the MAC. Need to figure out this printer thing. Need to do a minor tweak to a PDF document. Not even sure I want to try this online. Feb 22 Had to do some serious Excel number crunching. Driving me crazy in both Sheets and Excel online. Off to the MAC. Feb 23 Some weird quirkiness trying to copy/paste a blog post into a LinkedIn post. No rhyme or reason to what is showing up when I paste. Off to the MAC. Feb 24 A general observation -- watching my own staff, almost every time we have a truly collaborative document that we're working on -- lots of people, both inside and outside the organization, often with more than one person editing at the same time -- we almost always use Google Docs. Almost every time we have any heavy lifting with spreadsheets, we use Excel, and never the online version.. Feb 29 True confession. I've been using my MAC for the past 2 days. It started with a long document that I knew the receiver would HAVE to had in Word format, and I didn't want to mess with any idiosyncrasies in converting from Google Docs to Word. But I still stick to my guns that for multi-person collaborative, pre-final work, I almost always defer to Docs. I will also say that I may have been too hard on Office365. I was a bit frustrated with the user experience on the Chromebook -- and particularly the speed of the experience -- so I thought I would stick with Office365 during my short MAC sabbatical. The net-net is that I think the processing power on my MAC compared to the 2G Chromebook makes a significant difference in the quality of the user experience. The internet connection is the same, but it is now more satisfying -- not quite, but more comparable to the Outlook experience. More to come... ----- Make your plans for AIIM16 before we sell out. April 26-28 in New Orleans. It will be a blast.