Global research and advisory firm, Gartner, predicts that by 2024 more than 45% of IT spending will shift from legacy on-premises solutions to the cloud. Cloud infrastructure spending is expected to jump from $63 billion in 2020 to $81 billion by 2022. The cloud race was well underway in 2020 when COVID reared its unfortunate head and sent businesses still on the cloud adoption starting blocks into a frenzy. Those who had already adopted and implemented a cloud-first strategy sat smugly in the stands. The perks of a cloud-first approach for data management have been well documented: unified, content-services platforms accessed anytime, anywhere by empowered employees leading to improved productivity and reduced operational costs.
AIIM on Air | Artificial Intelligence (AI) | Cloud
The notion of Artificial Intelligence has pervaded both the info and tech worlds. Indeed, it's difficult to have a discussion or a webinar without the topics of AI and Robotic Process Automation coming up. And while it might be tempting to dismiss the implications as something from a Hollywood movie of a future world populated by smart robots with super-human characteristics, the truth is that these technologies are already at work today, fueling important changes in the way we do business.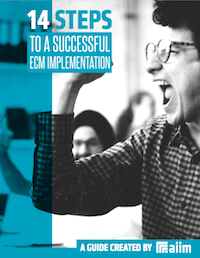 14 Steps to a Successful ECM Implementation
Making an ECM implementation successful requires planning and attention to detail. The best way to create the right solution is to identify organizational goals and priorities. Learn how to manage a successful implementation in our free guide.
The workplace in 2021 will demand a different set of skills. Now more than ever, organizations need to embrace disruption as a springboard for competitive advantage and adopt new ways of working that invigorate organizational performance. The needed capabilities include the ability to leverage remote work as an advantage, increase information agility, and drive business growth despite these challenging times.
Cloud Content Management has the power to change the game for businesses of all sizes and types. This powerful technology and its massively scalable storage and operational power can crunch large sets of data, use analytics to understand it, and provide the security needed to lock it all down.
Cloud computing is an expanding technology that is leading the digital transformation of businesses in various sectors. The strategies that organizations take in their cloud journey can give them a competitive advantage and lead to rapid growth. But this may not only mean a simple deployment of technology that the company must adapt to, a new cloud approach could be truly transformative.
In today's digital era of information technology, a company needs to consider several factors to decide how to manage their data and documents online. A large share of companies have now adopted cloud-based infrastructure, but many still rely on the tried-and-true legacy of on-premises document management software programs. If you, too, are in a dilemma as to which solution is right for your business, stick around as here is a detailed comparison between cloud and on-premises document solutions.